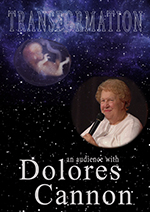 HD Video Download
£8.99 – 2h 25min





Transformation: An Audience With Dolores Cannon
2012 was heralded as a momentous spiritual turning point in our species' development.  In this audience from that pivotal year, probably her best and one of the very last she gave before her passing in 2014, grand matriarch of metaphysics and past-life regression, Dolores Cannon, in her own inimitable, kind, mirthful way explains life and death, reincarnation and manifestation…and the very meaning of existence itself.
Dolores Cannon, a regressive hypnotherapist and psychic researcher who recorded "Lost" knowledge, was born in St. Louis, Missouri in 1931. In 1951 she married a career navy man and spent the next 20 years traveling all over the world as a typical Navy wife, raising her family as they went. In 1970 her husband was discharged as a disabled veteran and they retired to the hills of Arkansas where she began her writing career, and then became involved with hypnosis and, since 1979 exclusively with past-life therapy and regression work. Studying different hypnosis methods over many years, Dolores was able to develop her own technique which enabled her to help her clients release the greatest volume of information
Dolores taught her unique technique of hypnosis all over the world and was an international speaker who lectured on all the continents of the world. Many of her seventeen books are translated into over twenty languages.
Directed by Jonathan Adams
* PAL – UK, Asia, Africa, Europe, Oceania   NTSC – USA, Canada, Most of Central & South America