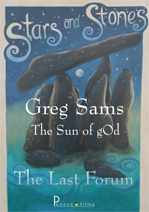 Video Download
£5.99




The Sun of gOd: Key to the Living Jigsaw
This presentation is one of a very special few, recorded at the last ever Stars and Stones Forum in Suffolk England, digitally remastered and released here for the first time.
This film is the talk that Greg gave to compliment his book of the same name.
As Greg sees it, the Sun is a living, conscious being, fully aware of itself and its place in the universe. Simply put, the Sun of gOd communicates with other conscious beings on all levels with an intelligence that dwarfs our own.
Sun of gOd explores exciting new ground, adding a crucial piece to the jigsaw-puzzle picture we have of our cosmos. Sams considers God, gods, notions of divinity, our place in the firmament, the intelligence of light, feedback, free will, electro-magnetism, crystals, fractals, macrobiotics, the four elements, and the self-organizing force that seems to crop up everywhere, perhaps powering everything. "Could it really be that the universe waited 13,698 billion years—until we came along—to manifest the phenomenon of consciousness and made ours the only type of vessel able to experience it?" Sams thinks not. Citing David Bohm's discovery that even on the subatomic level of electrons there appears to be intention and choice, Sams goes on to imagine that creative intelligence may be a bottom-up system in which "everything, from a molecule of water to a neuron in our brain to the Sun itself, is a part of the bottom that is subtly steering a greater whole." The implications are startling and in harmony with science, logic, and common sense. They smoothly join the microcosm to the macrocosm, revealing a universe incorporating both intelligence and design, without an Intelligent Designer.
www.gregorysams.com
All the talks in this series are lovingly dedicated to Stars & Stones founder, John Agnew.
Directed by Jonathan Adams
Cover painting by Amanda Clark – Earth Angels Art