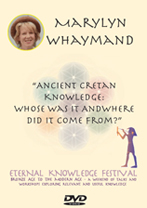 Video Download
£3.99

Audio Download
£2.49




Ancient Cretan Knowledge: Whose Was It & Where Did It Come From
Intrigued by Ancient Cretan society in the Early Bronze Age, Marylyn is currently researching evidence for the impact that ancient knowledge
had on EBA Crete and traces where this is likely to have come from. With a journey starting in c. 7000 BC, we are taken through the crisis of c3195 BC to the emergence of the Cretan proto-cities taking place between 2100 – 1900 BC.
After gaining first class honours in Classical Studies at Queen Mary, University of London, Marylyn was awarded a British Academy scholarship for postgraduate studies, taking an MA in Archaeology at UCL. She studied the Bronze Age Aegean with Cyprian Broodbank; the Levant and ancient Egypt with Peter Parr and undertook doctoral research with Chris Tilley, studying ancient Swedish petroglyphs, gender and landscape, and visiting the prehistoric rock carving sites in Northern Sweden and Bohuslan. Marylyn is also a healer and complementary
therapist and has recently set up a workshop/therapy studio in Shalford, North Essex.
Filmed at the Eternal Knowledge Festival