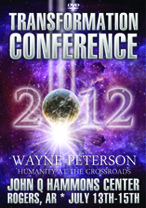 Video Download
£3.99

Audio Download
£2.49




Humanity At The Crossroads
Mr. Peterson graduated from the University of Wisconsin, Madison, with a major in international relations and foreign languages. He immediately volunteered for the Peace Corps and served for two years in Brazil.
In Brazil, Mr. Peterson created the first privately funded welfare program which today functions across that country and is supported by municipal governments. Upon completing this work, Mr. Peterson was appointed to the career diplomatic service in 1967 by the President of the United States and was confirmed by the U.S. Senate. He then returned to work in Brazil as a diplomat with the American Embassy in that country. His diplomatic career eventually
included assignments in South America, Africa, and East Asia.
In the early I 980s Mr. Peterson accepted a series of foreign affairs assignments in Washington D.C. which eventually included that of director of the Fulbright Scholarship Program which is also administered by the Department of State. He spent fifteen years directing this scholarship program before retirement in order to focus exclusively on his 'major interest of becoming a student and teacher of esoteric spiritual literature.
In 1997 Mr. Peterson moved to Henderson, Nevada. There he wrote his book, Extraordinary Times, Extraordinary Beings, which tells of his lifelong experiences with Lord Maitreya and the various spiritual Masters of Wisdom. Since then, he has lectured across the United States, Canada, and Europe promoting interest in the reappearance of the spiritual hierarchy and the expected vast changes to humanity.
Directed by Jonathan Adams