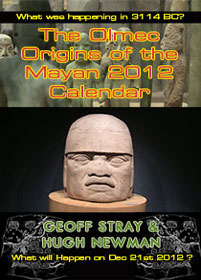 Video Download
£3.99

Audio Download
£2.49




The Olmec Origins of the Mayan 2012 Calendar
Hugh's recent travels around Mesoamerica researching the origins of the Maya civilisation, has found that a mysterious "megalithic" culture – the Olmecs – were the actual originators of the Long Count calendar that ends in 2012. The evidence shows that they were a shamanic culture that used the Bufo-toad, mushrooms, and other psychoactive agents to access the shamanic realm where their insights were sourced. Hugh and Geoff will pool their knowledge, giving their first-ever joint presentation looking into the megalithic connection to the controversy of 2012.
Geoff Stray is a shoe-maker and the author of Beyond 2012 – Catastrophe or Ecstasy –
A Complete Guide to End-of-Time Predictions.
Filmed at WCCSG Conference
Directed by Jonathan Adams