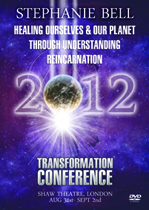 Video Download
£3.99

Audio Download
£2.49




Healing Ourselves & Our Planet Through Understanding Reincarnation
Stephanie Bell is originally from Australia but moved to the UK several years ago where she now calls home. She was aware of having lived before from an early age . It was on a visit to the UK as a child that she began to investigate these memories, trying to piece together what she now understands is many life times lived in many places and times across the UK and Ireland.
At 13, she discovered an aptitude for Spiritual Heal ing and at the same time began to read everything she could about the subject of past lives and spiritual growth. She would spend many journeys on the school bus reading channelled material by longdeceased American Indian Spirit Guides and it was this information which lead her to understanding that we all lead many lives, even simultaneously and that we are all
from the same Source. She qualified as a journalist and taught Communications at College before marrying and travelling the world with her husband and three children. She continued to study all aspects of spirituality but remained fascinated by reincarnation.
Directed by Jonathan Adams